When the Day arrives, all concepts of value and dignity will be battered on their head.
Traditional notions of cause and effect, of collective human equilibrium, will crash to a chaotic end. What matters to us will warble through the distorted lens of cultural self-appraisal.  The frenzy will twist in such convoluted knots that we will fail to recognize our own lunacy.
We will cease to become Man and merely become Human. A voracious animal consumed by an intelligence he was ill-suited to corral into much use.
Consumed by madness and ennui but bored by money and bottomless consumption.
And he will have this:
Anxiety, as any pet owner will tell you, isn't limited to humans. Dogs can also feel stressed out and scared, and one company claims they've found the solution in the form of … a new outfit.

California-based company Shed Defender is going viral on Twitter for itss genius invention: dog leotards.

It's a full-coverage spandex suit for pups. The snug fit is supposed to soothe overly anxious dogs. According to the site, the Shed Defender "has a calming effect once put on. It also has been used to stop the constant, antagonizing barking of small dogs."

It's also helpful for anxious dog parents. CEO and founder Tyson Walters designed the suit to contain the shedding of his Saint Bernard, Harley. "There were tumbleweeds of hair in my car and all over my apartment. I tried every product on the market and nothing worked, so I decided to come up with something completely different," he explains on the site. Full-coverage means it also protects against fleas and ticks and can keep your pup warm in the snowy weather.

The leotard (which costs $39.99) contains all the excess shedding that would normally end up all over your car, rug, food, and life. The company advises leaving the leotard on for a few hours to a day, and make sure to brush your dog upon removal. The onesie can even stay on during walks — just be sure to unzip before your dog heads to the curb.
The dire state of our civilization is not starved for conspicuous displays of its insanity. Open your eyes.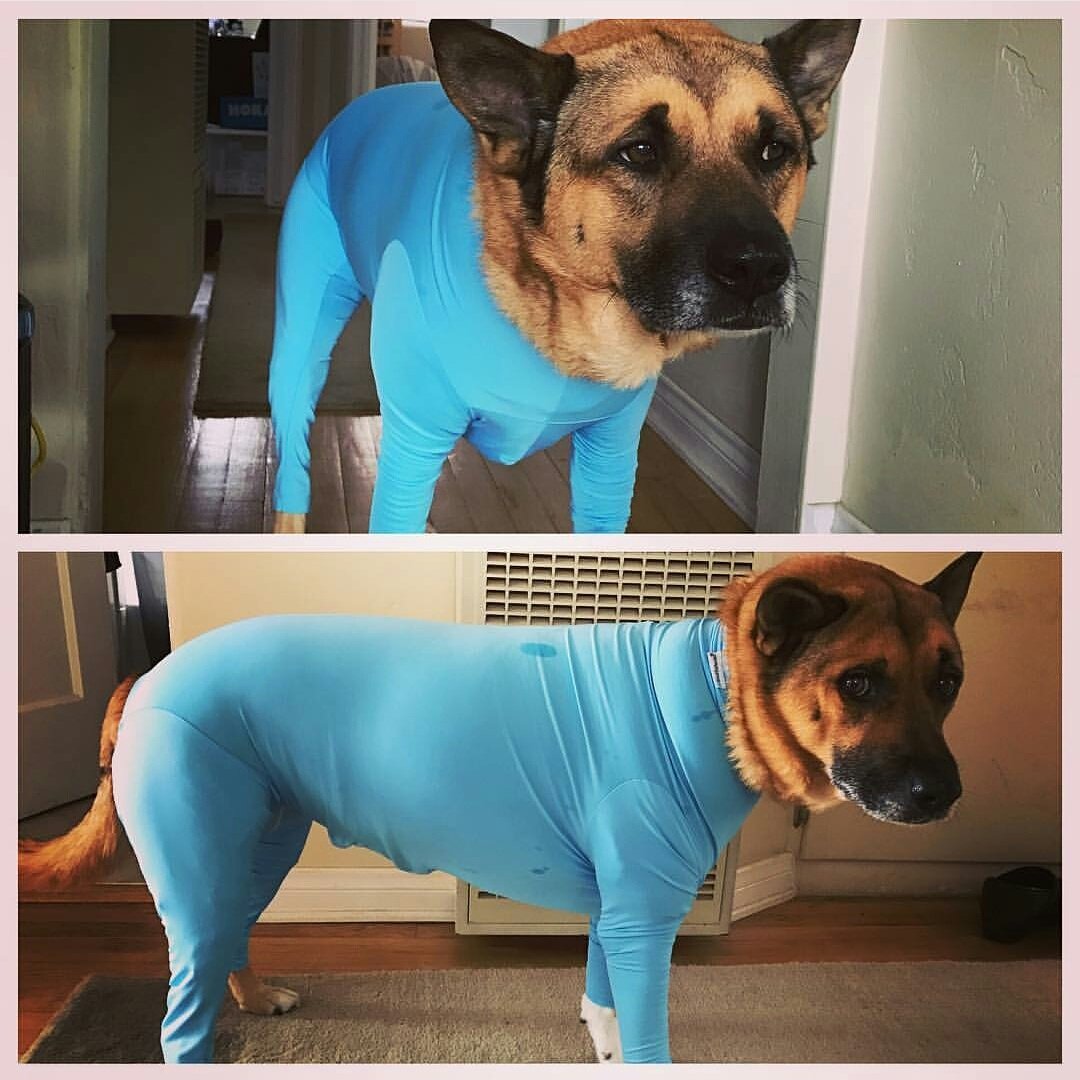 **archive**